2021年4月3日雅思考试口语回顾
Part1题目汇总(加粗题为高频题)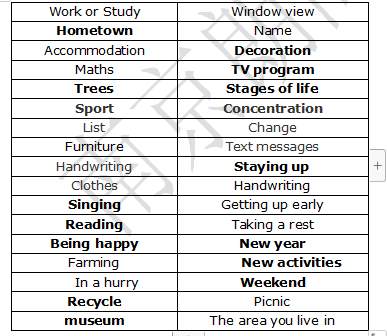 Part2 题目汇总(加粗题为高频题)
人物类:
Describe a person who think wears unusual clothes.
Describe a famous person you are interested in.
Describe a polite person you know.
Describe an old friend that you got in contact again.
Describe a family which you like and are happy to know.
Describe an intelligent person you know.
Describe a person who often helps others.
Describe a person who is full of energy.
Describe a person who is openly.
物品类:
Describe a kind of weather you like.
Describe an interesting conversation.
Describe a toy you liked in your childhood.
Describe something important that has been kept in your family for a long time.
Describe a thing that you bought and felt pleased.
Describe a perfect job that you would like to have in the future.
Describe a live sport match that you have watched.
Describe a skill that you think you can teach other people.
Describe a photograph of you that you like.
Describe an area of science that interests you.
Describe a prize that you received.
Describe a sentence or a few words from a poem or song in your memory.
Describe a tradition in your country.
Describe an ambition that you have had for a long time.
Describe an expensive activity that you enjoy doing occasionally.
Describe a time when you received good news.
Describe a film that made you laugh.
Describe a book you read that you found useful.
Describe a part-time job and short-term job you would like to do in a foreign country.
事件类:
Describe a time when you encouraged someone to do something that he/she didn't want to do.
Describe a time when your computer broke down.
Describe a time you had to wait in line for a long time.
Describe a time when you felt bored.
Describe a time when you ate something for the first time.
Describe a time when you gave advice to others.
Describe a short trip you often take but do not like.
Describe a time when you got close to wild animals.
Describe a time you made a promise to someone.
Describe a time when you told your friends an important truth.
Describe a time you needed to use your imagination.
Describe a time when you worked in a group.
Describe a time when you changed your opinion.
Describe the time when you first talked in a foreign language.
Describe an occasion when you forgot something important.
Describe an event you experienced in which you didn't like the music played.
Describe a time when you saw behave badly in public.
Describe an occasion when you lost your way.
地点类:
Describe a home that you like to visit but do not want to live in.
Describe a part of a city or town you enjoyed spending time in.
朗阁名师陈楚仪点评
Part 1:
Part1新题考生备考时要引起足够重视,比如window views,farming考察频率比较高,需要做好充足的准备,以免在考场上会出现卡顿影响流利度。另外,一些基础题比如work or study,accommodation,hometown也是必备的,给考官留下一个好的第一印象是非常重要的。除此以外,还有一些经典的题目比如说maths又重新回来了,还有一些上个季度的题目也依然会考察,所以尽量所有的题目都要熟悉并做好准备。
Part2:
Part2人物类的题目也不少,通常对于备考而言建议准备一个普通人的例子,尽可能可以多包含一些题目,这样也可以提高备考的效率,比如Describe a polite person you know. Describe an old friend that you got in contact again.这两个题目完全可以用一个例子,找到两道题的共同点和不用点进行准备,可以节约时间。名人类的话题肯定是要准备的,找一个自己比较喜欢的名人进行描述,对于介绍方面就可以进行具体的描述。
考试建议
考试的时候尽量以一种比较轻松的态度来进行,当做是和考官的聊天,和考官介绍自己的爱好,性格和一些自己有趣的事情,准备的内容尽可能以自己实际情况出发,这样在表达的时候整个人的状态也是不一样的,避免因为紧张导致卡顿影响自己的流利度,加油!
2021年4月3日雅思考试听力回顾
场景话题:
S1 办理健身会员/ S2 不同街区的特色艺术活动/ S3 环境项目/ S4 喀斯特地理
S1填空/ S2单选题+配对题 S3多选题+单选题(新题) S4 填空(新题)
朗阁名师周娟娟点评
本次考试难度中等。注意以下单词的正确拼写: orientation, intermediate, irrigation, clay, foundation 等。
本场考试填空题出现在P1、P4。答案(仅供参考)如下:
P1:
1.285;
2.parking;
3.September;
4.glass;
5.orientation;
6.TV;
7.judo;
8.yoga;
9.intermediate;
10. 8.30;
P2:
11.G(healthy living);
12.D(souvenirs);
13.B(art gallery);
14.A(jazz music festival);
15.F(all kinds of shops);
16.A(reasonable price);
17.C(few working opportunities);
18.C(8.5);
19.B(by the shopping complex);
20.A(quite positive)
P3:
21.A(natural resource was regulated by law);
22.C(educational purposes);
23.B(teachers and students have benefited from the field trips);
24.A(special for students)disability;
25-26.B.(introduce the use of equipment); E(reserving rules);
27-28.B(students become more confident);A(achieve punctuality);
29-30.C(interview some teachers);D(participate in group activity);
P4:
31. cars;
32. agriculture;
33. irrigation;
34. clay;
35. caves;
36. map;
37. rainfall;
38. tree;
39. pond;
40. foundation.
本场听力考试整体难度中等,主要难度体现在以下两点 ①Part3 Part4是新题; ②s1和s4整体语速快信息量大。剑桥真题有部分题目的语速整体偏慢,建议备考时可以调整1.2倍语速做题。本场考试填空和选择比例为20:20,相对上场考试,本场听力考试难度不大,虽然有新题,但是剑桥真题都有类似的背景材料。s1和s2部分还是比较好拿分的。填空题方面,此次答案词为基础词汇,在3500单词书中都可以查询到。单词复习时需特别注意单词"辨音"的问题,加强"听音"的训练。另外在刷题过程中,多关注材料较难的听力题,积累素材。
替换词:本场考试需注意一些常规同义替换和词组搭配。注意配对题带来的审题压力。考生们如果遇到选项较长的选择题,审题时需要对选项进行简化,"去同求异",抓住选项之间的差别,课后多整理同义替换。参考剑桥练习:剑9Test1 Section2;剑8Test1 Section4;剑11Test3 Section2;剑11Test1 Section4等
备注:本场听力考试题型常规化,课后加强单选和配对题的练习,尤其是配对题。同时别忘了复习地图题。s4的动植物学,环境学,农业学等的场景词汇记得复习!
考试预测
1. 场景方面:场景方面依旧是主流场景(租房咨询、展览、课程讨论、学科讲座),在接下来的考试中,考生还应将重点放在S1咨询,租房,面试 S2旅游,活动及公共场所设施介绍,S3课程讨论及论文写作,S4各类学术讲座。
2. 题型:S1,S4填空为主;S2,S3选择题为主。
3. 机经:如需参考机经,以2013-2016年机经为主。建议机经复习以熟悉词汇为主,确保曾经考察过的单词自己都能辨音并正确拼写。
2021年4月3日雅思考试写作回顾
小作文: pie chart
大作文: More and more people no longer read newspaper or watch TV programs to get news. They get news about the world through the internet. Is this a positive or negative development?
朗阁名师黄慧慜点评
1. 本次考试难度一般。
2. 整体分析:
Task 1线图,动态数据图,一个国家的学生在四种花费在四个年份,动态图以趋势描写,对象之间的比较为主。
注意点:1.注意描述趋势及对比 2. 描述性词汇的词性变化,增加句型丰富性 3. 注意时态是过去时
相关表达:
1). 描述对象 + increased/decreased by/to + 数据.
2). 描述对象 + was + 数据,rising/decreasing to/by + 数据
3). 时间段 + witnessed/saw a(n) increase/decrease in 对象 + 数据.
4). 描述对象 + reached a new peak, at/with + 数据
5). 描述对象 + experienced a(n) increasing/decreasing trend + 数据.
Task2:科技媒体类话题
题目翻译:很多人不再通过读报纸或者看电视来获得新闻,而是通过互联网来了解世界。你认为这是一种积极还是消极的发展?
这是一道传统与现代的对抗类话题,建议采取中立结构讨论。
Body 1 与其他渠道相比,通过互联网了解世界的确会带来积极影响
Body 2 但同时也带来了很多的消极影响
Body1:
Ts:互联网世界带来了很多的获取新闻的方式。
Ss: 1. 效率高(high efficiency),获取及时的新闻(latest information),such as the spread of contagious disease;对比传统方式,信息获取慢,步骤较多(multistep),需要编辑,校队,印刷,出版2. 方便(convenient),不受时间和地点的约束(would not be restrained by the environment and locations);对比电视必须在固定位置,有网络(wireless)
Body2:
Ts: 但是,相比较前面两个渠道,互联网获取信息同时也带来了很多的消极影响。
Ss: 1. 虚假信息的增多(increase of false information),会出现虚假信息对大众造成误导(mislead),引起恐慌(panic),such as seemingly trustworthy therapeutic schedule for COVID-19 in social websites;2. 网络普及率降低(popularization of network),老年人群体/农村偏远地区(senior citizens/ remote rural area)大受影响,无法获得大量有效新闻
考试预测
1. 小作文:重点关注静态柱图和表格。
2. 大作文:多关注社会生活,教育,政府发展类话题。
3. 重点浏览16.17.18年写作机经。
2021年4月3日雅思考试阅读回顾
P1 恐龙脚印与消失
P2 番茄基因
P3 奥克兰艺术馆
朗阁名师刘艳艳点评
1. 本场考试的难度中等,题型分布比较均匀
2. 整体分析:涉及生物类(P1/P2)、艺术类(P3)。
本次考试第一篇为旧题并且是大家比较熟悉的恐龙话题,整体难度不大,题型搭配也是常规的判断+填空。第二篇文章出现的是常规的匹配+判断+填空搭配形式,第三篇文章出现了单选题,难度相对较大
3. 部分答案及参考文章:
Passage 1:恐龙脚印与消失
EVERYBODY knows that the dinosaurs were killed by an asteroid. Something big hit the earth 65 million years ago and, when the dust had fallen, so had the great reptiles. There is thus a nice, if ironic, symmetry in the idea that a similar impact brought about the dinosaurs' rise. That is the thesis proposed by Paul Olsen, of Columbia University, and his colleagues in this week's Science.
Dinosaurs first appear in the fossil record 230m years ago, during the Triassic period. But they were mostly small, and they shared the earth with lots of other sorts of reptile. It was in the subsequent Jurassic, which began 202million years ago, that they overran the planet and turned into the monsters depicted in the book and movie "Jurassic Park". (Actually, though, the dinosaurs that appeared on screen were from the still more recent Cretaceous (白垩纪)period.) Dr Olsen and his colleagues are not the first to suggest that the dinosaurs inherited the earth as the result of an asteroid strike. But they are the first to show that the takeover did, indeed, happen in a geological eyeblink.
Dinosaur skeletons are rare. Dinosaur footprints are, however, surprisingly abundant. And the sizes of the prints are beasts as are as good an indication of the sizes of the beats as are the skeletons themselves. Dr Olsen and his colleagues therefore concentrated on prints, not bones.
The prints in question were made in eastern North America, a part of the world then full of rift valleys similar to those in East Africa today. Like the modern African rift valleys, the Triassic (n.三叠纪)/Jurassic American ones contained lakes, and these lakes grew and shrank at regular intervals because of climatic changes caused by periodic shifts in the earth's orbit. (A similar phenomenon is responsible for modern ice ages.) That regularity, combined with reversals in the earth's magnetic field, which are detectable in the tiny fields of certain magnetic minerals, means that rocks from this place and period can be dated to within a few thousand years. As a bonus, squishy (adj.粘糊糊的)lake-edge sediments are just the things for recording the tracks of passing animals. By dividing the labour between themselves, the ten authors of the paper were able to study such tracks at 80 sites.
The researchers looked at 18 so-called ichnotaxa (群落). These are recognisable types of footprint that cannot be matched precisely with the species of animal that left them. But they can be matched with a general sort of animal, and thus act as an indicator of the fate of that group, even when there are no bones to tell the story. Five of the ichnotaxa disappear before the end of the Triassic, and four march confidently across the boundary into the Jurassic. Six, however, vanish at the boundary, or only just splutter across it; and three appear from nowhere, almost as soon as the Jurassic begins.
That boundary itself is suggestive. The first geological indication of the impact that killed the dinosaurs was an unusually high level of iridium in rocks at the end of the Cretaceous, when the beasts disappear from the fossil record. Iridium is normally rare at the earth's surface, but it is more abundant in meteorites. When people began to believe the impact theory, they started looking for other Cretaceous-end anomalies. One that turned up was a surprising abundance of fern spores in rocks just above the boundary layer—a phenomenon known as a "fern spike". (n.蕨类)
That matched the theory nicely. Many modern ferns are opportunists. They cannot compete against plants with leaves, but if a piece of land is cleared by, say, a volcanic eruption, they are often the first things to set up shop there. An asteroid strike would have scoured much of the earth of its vegetable cover, and provided a paradise for ferns. A fern spike in the rocks is thus a good indication that something terrible has happened.
Both an iridium (n.铱) anomaly and a fern spike appear in rocks at the end of the Triassic, too. That accounts for the disappearing ichnotaxa:the creatures that made them did not survive the holocaust. The surprise is how rapidly the new ichnotaxa appear.
Dr. Olsen and his colleagues suggest that the explanation for this rapid increase in size may be a phenomenon called ecological release. This is seen today when reptiles (which, in modern times, tend to be small creatures) reach islands where they face no competitors. The most spectacular example is on the Indonesian island of Komodo, where local lizards have grown so large that they are often referred to as dragons. The dinosaurs, in other words, could flourish only when the competition had been knocked out.
That leaves the question of where the impact happened. No large hole in the earth's crust seems to be 202m years old. It may, of course, have been overlooked. Old craters are eroded and buried, and not always easy to find. Alternatively, it may have vanished. Although continental crust is more or less permanent, the ocean floor is constantly recycled by the tectonic processes that bring about continental drift. There is no ocean floor left that is more than 200m years old, so a crater that formed in the ocean would have been swallowed up by now.
There is a third possibility, however. This is that the crater is known, but has been misdated. The Manicouagan ''structure", a crater in Quebec, is thought to be 214m years old. It is huge—some 100km across—and seems to be the largest of between three and five craters that formed within a few hours of each other as the lumps of a disintegrated comet hit the earth one by one.
T/F/NG
1 Dr Paul Olsen and his colleagues believe that asteroid knock may also lead to dinosaurs' boom.
2 Books and movie like Jurassic Park often exaggerate the size of the dinosaurs.
3 Dinosaur footprints are more adequate than dinosaur skeletons.
4 The prints were chosen by Dr Olsen to study because they are more detectable than earth magnetic field to track a date of geological precise within thousands years.
5 Ichnotaxa showed that footprints of dinosaurs offer exact information of the trace left by an individual species.
6 We can find more Iridium in the earth's surface than in meteorite
Summary
Dr Olsen and his colleagues applied a phenomenon named 7 to explain the large size of the Eubrontes, which is a similar case to that nowadays reptiles invade a place where there are no 8 ; for example, on an island called Komodo, indigenous huge lizards grow so big that people even regarding them as 9.

However, there were no old impact trace being found? The answer may be that we have 10 the evidence. Old craters are difficult to spot or it probably 11 due to the effect of the earth moving. Even a crater formed in Ocean had been 12 under the impact of crust movement. Beside, the third hypothesis is that the potential evidences --- some craters may be 13.

Passage 2:番茄基因

题型:匹配+判断+填空

参考文章与题目:待确认

Passage 3:奥克兰艺术馆

题型:判断+选择+句首配句尾

文章与题目待补充

考试预测

1. 本场考试涉及的均是常规话题及常规题型组合,没有大规模出现配对题。但第三篇中出现单选题还是会增加考试的难度。单选题通常会涉及大段的阅读,同时还需要结合逻辑关系分析做题,会占用大量的时间。想要拿高分的同学课下需要重点练习该题型。下场考试,除了常规基础题型:填空,判断和选择,还要关注heading题和它的篇章搭配。

2. 下场考试的话题可能有关历史类,社会类和管理类。

3. 重点浏览2014到2018年机经。

(责任编辑:朗阁君)
文中图片素材来源网络,如有侵权请联系删除